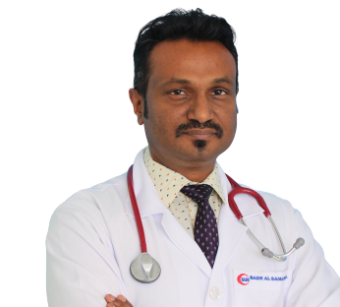 DR Shebeer Ahammed
Orthopaedics Surgeon
Orthopaedics
MBBS, D Ortho
Duqm (Oman)
About DR Shebeer Ahammed
Dr. Shebeer Ahammed is a highly experienced Orthopaedic Specialist with over 9 years of expertise. He believes in staying abreast with the latest developments in his field and attends conferences and CMEs regularly. He is also experienced in the fields of Clinical Research.

He is a member of the Kerala Orthopaedic Association, Indian Orthopaedics Association, and Delhi Orthopaedics Association.

Excellence & Experience
Area of excellence
Sports Medicine
Joint Pain Management
Complex Trauma Management
Back Pain Management
Level of Experience
Experienced in Dr. Shebeer Ahammed is well-versed in critical care and trauma management. He has worked in Government and reputed multi-speciality hospitals in South India, managing all types of complicated trauma cases.fiber-glass prosthesis making.
Awards & Academics
Academics Details
MBBS – J.J.M. Medical College, Davangere, India (2005)
D Ortho- Sri Ramachandra Medical College, Chennai, India (2011)
Out Patient Timings
The outpatient timings at Badr Al Samaa Hospitals have been planned in such a way that your choice of doctor is available whenever you are free.
Sunday
8:00 AM - 1:00 PM
Duqm - Oman
5:00 PM - 8:00 PM
Duqm - Oman
Monday
8:00 AM - 1:00 PM
Duqm - Oman
5:00 PM - 8:00 PM
Duqm - Oman
Tuesday
8:00 AM - 1:00 PM
Duqm - Oman
5:00 PM - 8:00 PM
Duqm - Oman
Wednesday
8:00 AM - 1:00 PM
Duqm - Oman
5:00 PM - 8:00 PM
Duqm - Oman
Thursday
8:00 AM - 1:00 PM
Duqm - Oman
5:00 PM - 8:00 PM
Duqm - Oman
Friday
Saturday
8:00 AM - 1:00 PM
Duqm - Oman
5:00 PM - 8:00 PM
Duqm - Oman