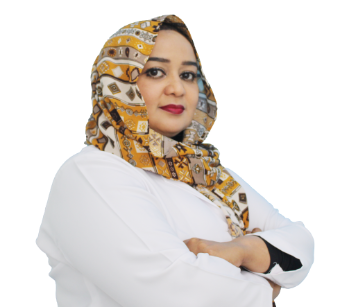 Dr Shuroug  Abdelmonem Osman
Specialist Dentist
Dentistry
BDS, Periodontology (Part 1)
15 years of experience
Duqm (Oman)
About Dr Shuroug  Abdelmonem Osman
Dr. Shuroug is a well qualified and experienced Dentist. She has rich expertise in Patient Assessment, Interpreting Results, Pain Prevention and Emergency Response Procedures. She has good clinical outcomes. She is registered with Oman, UAE and Sudan Medical Councils.

Excellence & Experience
Area of excellence
Treatment of dentinal hypersensitivity
Incisional and excisional Biopsy
Root Canal Treatment
Dental Extractions
Scaling- Root Planing & Curettage
Crowns & Bridges
Complete & Partial Dentures
Veneering & Laminates
Teeth whitening
Awards & Academics
Academics Details
Part (1) Periodontology in Sudan specialization Board (2011)
Bachelor of Dental Surgery, University of Science & Technology (2007)
Out Patient Timings
The outpatient timings at Badr Al Samaa Hospitals have been planned in such a way that your choice of doctor is available whenever you are free.
Sunday
9:00 AM - 1:00 PM
Duqm - Oman
5:00 PM - 8:00 PM
Duqm - Oman
Monday
9:00 AM - 1:00 PM
Duqm - Oman
5:00 PM - 8:00 PM
Duqm - Oman
Tuesday
9:00 AM - 1:00 PM
Duqm - Oman
5:00 PM - 8:00 PM
Duqm - Oman
Wednesday
9:00 AM - 1:00 PM
Duqm - Oman
5:00 PM - 8:00 PM
Duqm - Oman
Thursday
9:00 AM - 1:00 PM
Duqm - Oman
5:00 PM - 8:00 PM
Duqm - Oman
Friday
Saturday
9:00 AM - 1:00 PM
Duqm - Oman
5:00 PM - 8:00 PM
Duqm - Oman