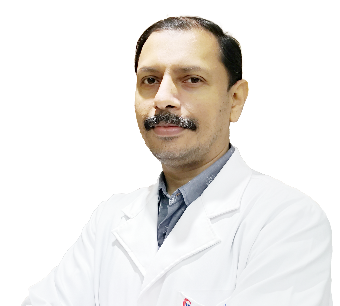 Dr SAJID VALSAN
ENT Specialist
ENT
MBBS, DLO
20 years of experience
Duqm (Oman)
About Dr SAJID VALSAN
Dr Sajid Valsan is a highly experienced ENT Specialist with over 16 years of expertise in his chosen field. After specializing in Otorhinolaryngology, he has been practising and gaining vast experience across hospitals in Kerala and Maharashtra. He is an expert in investigations, workup diagnosis and treatment of various common and uncommon ear nose and throat disorders. He has a special interest in allergic rhinitis, vertigo and vestibular disorders, sinusitis, snoring, sleep apnoea etc. He is also experienced in the fields of Clinical Research and Clinical Trials as well as drug safety and pharmacovigilance.
Excellence & Experience
Area of excellence
Foreign body removal- ear nose and throat
Allergic rhinitis
Dizzy patient management
Chronic sinusitis management
Snoring and sleep apnoea diagnosis and management
Level of Experience
He has more than 16 years of experience as an Otorhinolaryngologist and has worked as a GP for 3 years prior to post-graduation.
Awards & Academics
Academics Details
MBBS - JJM Medical College, Davangere, India - 1996
Diploma in Otorhinolaryngology - Kasturba Medical College, Manipal, India - 2001
Out Patient Timings
The outpatient timings at Badr Al Samaa Hospitals have been planned in such a way that your choice of doctor is available whenever you are free.
Sunday
9:00 AM - 1:00 PM
Duqm - Oman
5:00 PM - 9:00 PM
Duqm - Oman
Monday
9:00 AM - 1:00 PM
Duqm - Oman
5:00 PM - 9:00 PM
Duqm - Oman
Tuesday
9:00 AM - 1:00 PM
Duqm - Oman
5:00 PM - 9:00 PM
Duqm - Oman
Wednesday
9:00 AM - 1:00 PM
Duqm - Oman
5:00 PM - 9:00 PM
Duqm - Oman
Thursday
9:00 AM - 1:00 PM
Duqm - Oman
5:00 PM - 9:00 PM
Duqm - Oman
Friday
Saturday
9:00 AM - 1:00 PM
Duqm - Oman
5:00 PM - 9:00 PM
Duqm - Oman